G-AUBK Avro 504K (c/n ?)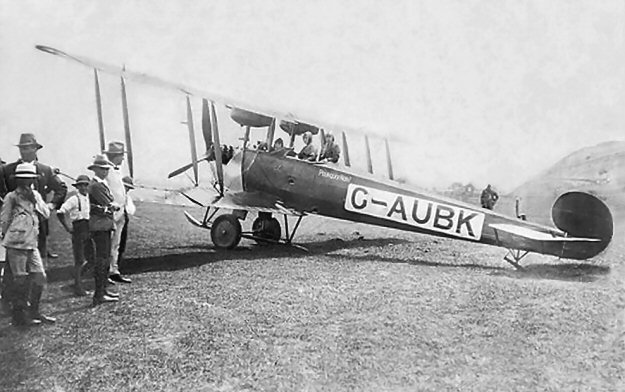 The historic shot above is from the Ron and Rae Boon collection and is shown here courtesy
of Greg Weir. It depicts an Avro 504K with a 80 hp Renault engine which, theoretically, would
make it an Avro 548. However, it was registered as a 504K in June of 1921 to E. W. Percival,
later to become the founder of Percival Aircraft in the U.K. In February 1926 G-AUBK came
to grief at Palm Beach, NSW when it overturned after hitting a soft patch of sand on the beach.
During the subsequent repair a130 hp Airdisco engine was used to replace the Renault. Since,
in the above image, it appears to be sporting the Renault engine, it can be surmised that the
occasion was prior to 1926, although the actual date and venue are obscure. Likewise, the
blurry image at the foot of this page (from the Bellinger Valley Museum collection, via Jim
Sweeney) depicts G-AUBK at Coff's Harbour sometime around 1921. It may, in fact, have
been the first aircraft to land at Coff's, so this photo may have been taken during Percival's
air route survey flight. Interestingly, correspondent Geoff Chennells from Adelaide advises
that this 504K was used in an early Australian silent movie "Kid Stakes" (released in 1927)
and that, in the film the aircraft appears to be still powered by the Renault engine. Geoff
provides the shot of it immediately below taken at around the time that the movie would have
been made. G-AUBK was sold in 1927 to Courier Aircrafts Ltd of Brisbane and was written
off in a crash at Ipswich, Qld shortly afterwards.