G-AUBE Avro 504K ( c/n AAEC/4)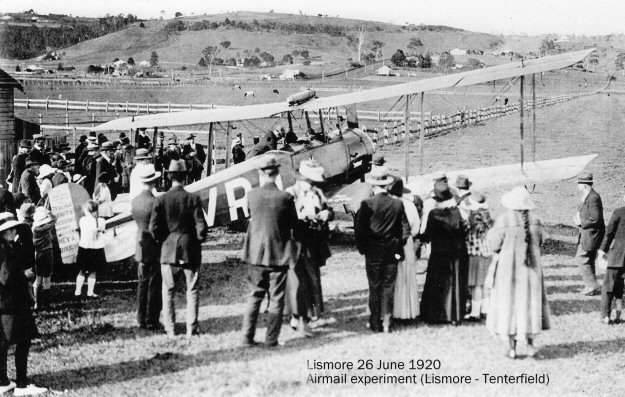 On 26 June 1920 an experimental mail flight was arranged by the Lismore, NSW Chamber of
Commerce in conjunction with the Postal Department. Aviation historian George A. Roberts
reports in a letter from the Qantas Museum to Bruce Robinson, (grandson of G.A. Robinson,
founder of Airlines of Australia, and from whose album comes the photo seen above) that Frank
L. Roberts (a relative of the historian?) carried the mail between Lismore and Tenterfield via
Casino in this Avro 504K. At the time the aircraft had yet to be assigned its civilian regis-
tration of G-AUBE, that not being allocated until 28 June 1921. It was one of four 504Ks
assembled from Avro kits by Australian Aircraft & Engineering Co of Mascot. Interestingly
these kits were given UK regos, AAEC/4 being ex G-EAIY. Incidentally the mail arrived some
7 hours ahead of road transport!* Roberts had been employed giving joy rides in the area at
3 guineas a head A year after receiving its civilian CofA, G-AUBE was struck off the register
(on 27 June 1923).

* In 1951 I drove from Brisbane to Melbourne and, even at that time, large sections of the
road through New England were not metalled. They were good old corrugated wash-
board dirt, almost impassable during heavy rain. Speeds above 30 mph, particularly in
my old Austin 10, tended to rip out the undercarriage!