G-AUBA Avro 504K (c/n [H2030])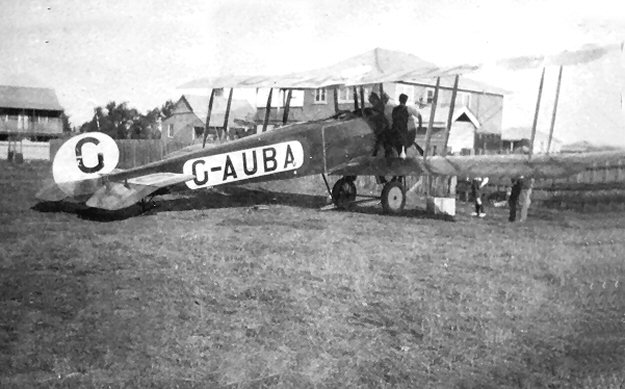 This extremely rare photograph is from the Brett Griffin collection (via Phil Vabre) and came
from an old family album. Brett advises that the inscription on the back indicates that the air-
craft was flown up to Queensland by his grandfather, Norman Clay to do flights to the western
region of that state. G-AUBA was actually the first aircraft registered in Australia (in June
1921). As stated elsewhere in these entries, the regos G-AUAA to G-AUAZ were allocated
to the Civil Aviation Branch, Dept of Defence (later to become DCA), and their first machine
did not come onto the register until July 1924.. I suspect that when the delivery flight was made
the aircraft may still have been carrying its military serial of H2030 (also given as the c/n in DCA
records), since it was officially registered to G.M. Elwyn of Inglewood, Queensland. In February
1927 it was reconditioned using the wings of G-AUBJ and given a new CofR number. Three
months later (on 17 May 1927) it crashed at Kempsey, NSW although was not stricken from
the register until April 1928 after its CofR lapsed...