G-AUAH de Havilland D.H.60 Moth (c/n 245)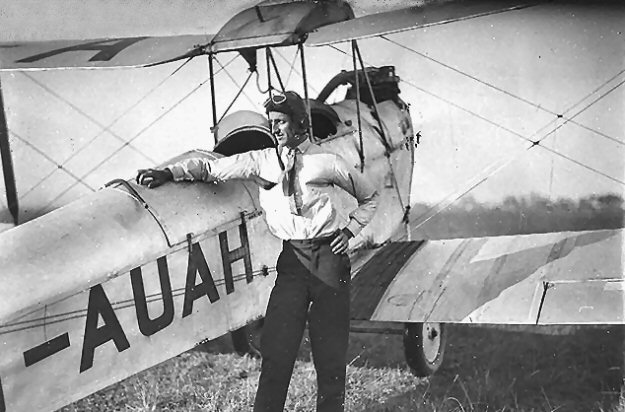 This photograph, by Sam Hood, from the State Library of New South Wales collection, shows Goya
Henry after winning the second semi-final of an Air Race, circa 1929. This, presumably, was before
he lost his leg in the crash of the Junkers Junior he was flying in July of 1930. G-AUAH at the time
would have been registered to the Civil Aviation Branch, Dept. of Defence, and on loan to the Australian
Aero Club (NSW Section) at Mascot. The aircraft had a rather chequered career after that, being
involved in several accidents, the last of which was a crash into the sea at Ettalong Beach, NSW in 1941.
The remains were sold in an unairworthy condition to V. Burgess in 1942 although the aircraft never
regained a CofA and was stricken from the register in 1945. The image below is from the Melbourne
Argus of 14 August 1926 and describes -UAH as being one of 6 Moths being redied for lessons at
the Australian Aero Club at Essendon. Photo No. 3 is another newspaper extraction, this time from
the Sydney Morning Herald for 23 March, 1928 showing the Moth, in company with G-AUFV and
-UGJ "practising for tomorrow's Aerial Pageant at Mascot". Finally at the foot of the page is a grainy
copy of the original CofA photograph (via Geoff Goodall).