VH-WWC (1) Consolidated PBY-5A Catalina (c/n 1859)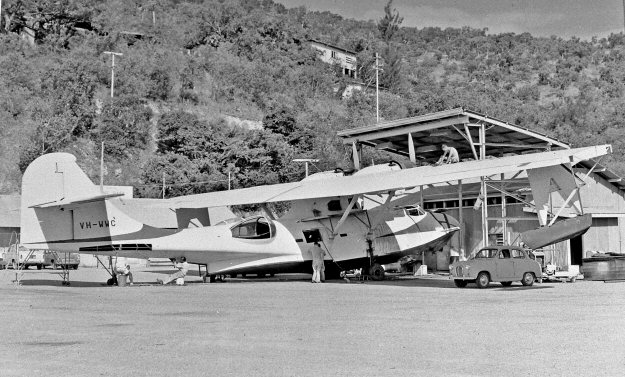 Very rare photograph from the Geoff Goodall collection of the Catalina VH-WWC in Papua/
New Guinea whilst with Trans Australia Airlines (just love the Austin A30 taking refuge from the
fierce PNG sun under the starboard wing). The photo was probably taken in early 1962. Built
as a US Navy PBY-5A with Bu No 46495 it was civilianized in 1946 as N94574. It was then
registered to Australian Petroleum/World Wide Air Services of Port Moresby on 28 August 1957
and later sold to TAA in 1961. On 26 April 1962 it swung on landing in a crosswind at Oriomo
River estuary, off Daru, PNG, struck an object, and sank. The 11 occupants were uninjured.
TAA eventually replaced it with VH-SBV. From Ian Mackenzie come two equally rare photo-
graphs (below), showing (upper) -WWC with Trans Australia Airlines titling on the fuselage and
(lower) the remains after the accident.