VH-WOT CAC CA-28 Ceres C (c/n 19)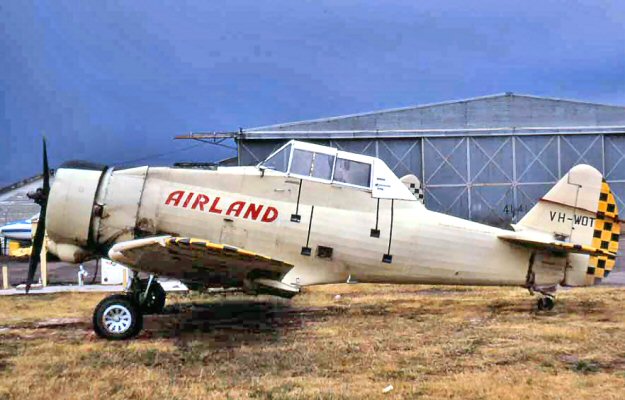 Two photos of VH-WOT at Cootamundra, NSW. Above, against threatening skies by Roger
MacDonald in March 1970 and below by Geoff Goodall earlier in September 1965. It was one
of three owned by Airland Improvements Pty Ltd (the others were VH-WAX and VH-WHY)
and painted in their standard color scheme of cream with checkerboard rudders and wingtips.
Originally to have been VH-CEU, this rego was not taken up, since c/n 19 was delivered new
to Airland Pty Ltd (as the company was then known) in December 1962 and directly registered
VH-WOT. .This Ceres was wrecked in a takeoff crash 28 May 1974 at Muttama NSW when
the aircraft struck a windmill and a water tank tower. Bits and pieces of it, as was the fate of its
sister craft VH-WHY, were later used by the Moorabbin Air Museum to make up a composite
Ceres in 1989. David Williams saw it there before the cannibalization (foot of the page) in 1983.
The fuselage section of VH-WOT eventually wound up with Monty Armstrong/Australian Aero-
space Museum at Essendon Airport, Melbourne.