VH-WKT Beech K-35 Bonanza (c/n D-5959)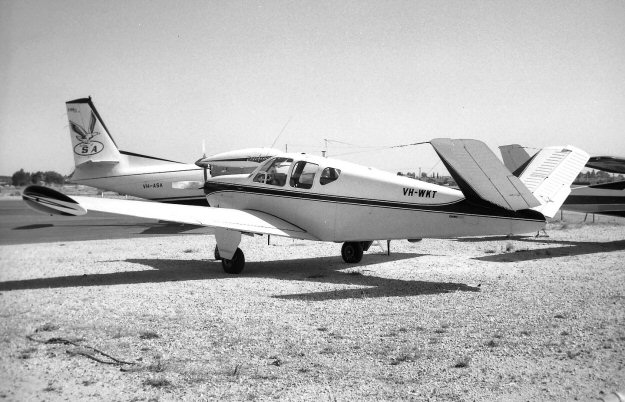 VH-WKT was an early Bonanza imported in July 1961 by pastoralist Bryce Killen of Nyngan
NSW, and was another Australian example fitted with wingtip fuel tanks. Geoff Goodall's shot
above was taken Adelaide's West Beach Airport in December 1963. Note Airlines of SA
Piaggio P166B in background.. Killen was a key player in the reorganization of Helicopter
Utilities into Airfast, and his Bonanza -WKT was transferred to Airfast Services Pty Ltd of
Sydney in October 1966. Greg Banfield saw it at Mascot in September 1967 (below). I
reckon someone in the Sydney area must have gotten a good deal on some buckets of that
orange paint, since several of Greg's shots show Bonanzas with various parts painted in this
color!. Anyway, -WKT remained with Airfast until Christmas Day 1974 when it was unfort-
unately destroyed by Cyclone Tracy on the ground at Darwin.