VH-WGD Cessna 180C Skywagon (c/n 50739)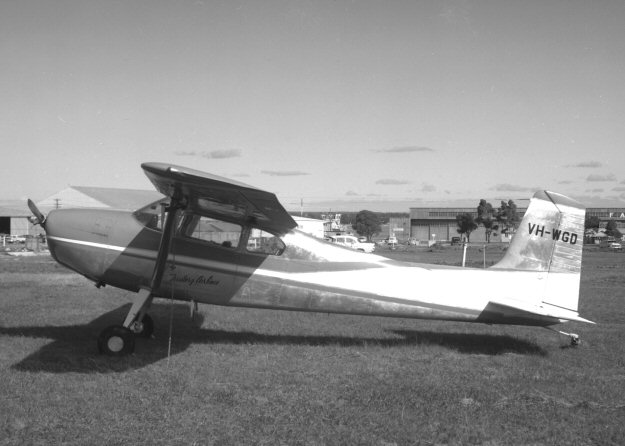 This 180 had been imported from the US (ex N9239T) in May 1960 as VH-GKD for Territory
Airlines of Goroka, New Guinea. It was up for sale when Greg Banfield took the above shot at
Bankstown on 9 July 1963, the 'Territory Airlines' titling still appearing on the door. It was finished
in a white and light blue trim. .In September of that year it was acquired by Hazelton Air Services
and is seen in the image below by Bob Neate just after it had been equipped with spray bars.
Hazelton flew many of them, usually sans spinners. In the mid 1970s-WGD flew for Grasslands
Aviation out of Albury, NSW. It is now part of the Historical Aircraft Restoration Society (HARS)
fleet at Wollongong and masquerades in 'warbird' livery (naturally) as the Army O-1G A98-043.
It is seen as such in the nice aerial shot by Glenn Alderton at the foot of the page taken at Luskintyre,
NSW in Oct.2001.
(The real A98-043 was lost in Viet Nam in 1968).