VH-WFZ Cessna 180D Skywagon (c/n 50937)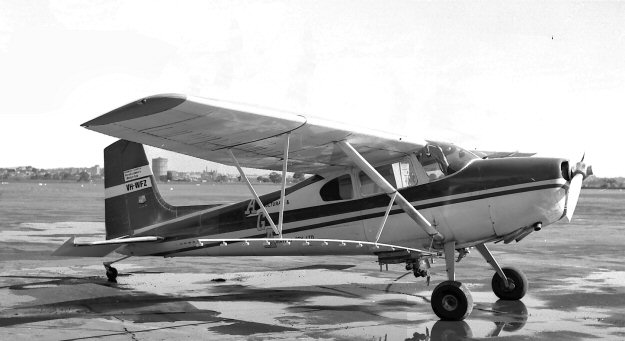 The above photo was taken by Peter Rye at Maylands aerodrome, circa 1963. This was a
Westfarmers Aero Service machine although by the time this shot was taken the company name
had been changed to Agricultural and General Aviation. This Cessna was first registered in
Australia as VH-RDE, being ex N6437X in the US. When sold by Rex Aviation it was soon
re-registered into Westfarmers' VH-WF block. Geoff Goodall's shot of it below was at Jandakot
in November of 1969, by which time it was privately owned and based in Kalgoorlie. It was,
however, still wearing AGA's yellow, white and black livery, sans titling..........and if you had the
notion that crop dusting was dangerous enough flying, consider doing it at night, in which mode
it was caught operating an AGA sortie at Kununurra, WA in July 1963 in the shot at the foot of
the page, also from Geoff's collection. -WFZ is still active and is currently registered to a private
owner in NSW.