VH-WFC (2) DHC-1 Chipmunk T.10 (c/n C1-0275)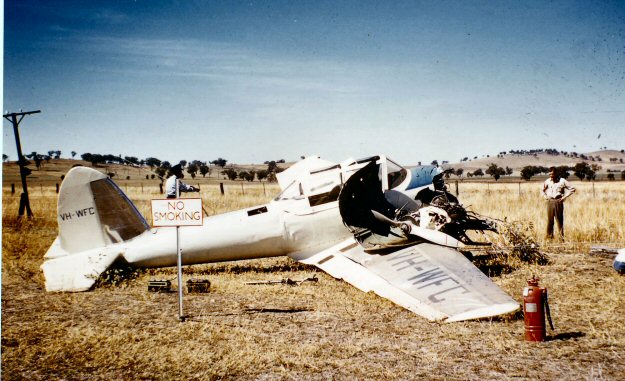 Ex WD334, -WFC the second was registered in Demure 1959, also to the Wagga Air Taxi
& Flying School. On 7 April 1962 Neil Whybrow (instructor) and a trainee were practicing
an engine failure on take-off from Forest Hill Aerodrome (Wagga) when the aircraft struck a
tree and slewed around, fortunately remaining upright. The engine was torn off and the
undercarriage and wings damaged enough to write the aircraft off. The occupants were,
fortunately, not seriously injured. The above shot was taken by Mr. Whybrow after the
accident whilst the lower was by Fred W. Burke and shows -WFC at the aerodrome
boundary facing back towards Runway 05 that she was operating from.