VH-WCR DHC-1 Chipmunk T.10 (c/n C1/0129)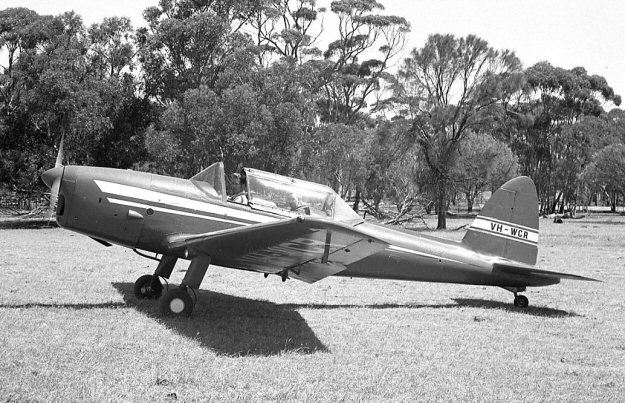 Despite its red and white livery, this Chipmunk did not see service with the Royal Aero Club of
Western Australia. It was, in fact, a former Royal Newcastle Aero Club machine, being imported
as VH-RNV, (it was the RAF's WB681). From Newcastle it went to the South Coast Aero Club
at Wollongong and became VH-BAY. Several owners later, and in 1966, it became VH-WCR.
The two b&w shots are from the Geoff Goodall collection, and show it: (above) at Beverly, WA in
November of 1970 and (below) eight years later at Jandakot with a then badly faded paint job and
Swan Wool Auctions titles. Danny Tanner's color shot at the foot of the page was at Ballarat
in 1985. Non-flying as of early 2017, and owned by David Wearne of Echuca, it is slated to be
completely restored.