VH-WAS CAC CA-18 Mustang Mk 21 (c/n 1443)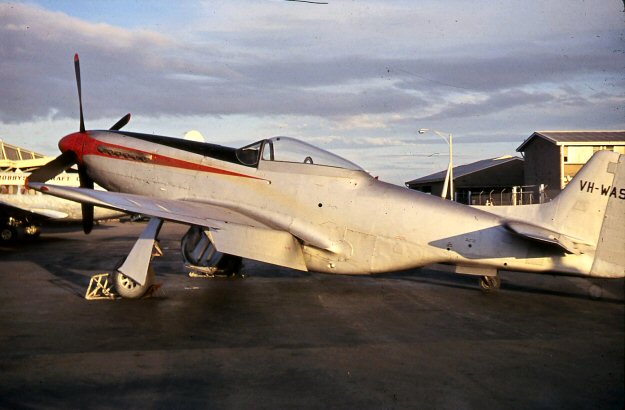 This Mustang was released from the RAAF in 1958. My shot (below) shows it at Moorabbin as
A68-118 just before it was civilianized as VH-WAS for Joe Palmer. Rod Adams image (above)
illustrates it at Parafield, Adelaide in August 1960 Joe was an Australian prewar pioneer airline
pilot and partner in Wilmore Aviation Services, Sydney and Melbourne who owned the Mustang.
Joe departed the next day for Sydney but blew a glycol coolant hose and declared an emergency
for his landing at Bankstown on 6 August 1960. VH-WAS did not fly again for 21 years until saved
by Jeff Trappett and re-registered VH-AGJ. It was test flown on 19 April 1981 and then restored
in an immediate post WW II style RAAF scheme. Since it wasn't delivered until 1948 it clearly did
not see service in action, and, in fact, spent most of its life wearing the conventional roundels seen in
my hangar shot. It is still currently flying as VH-AGJ/A68-118.