VH-WAQ Cessna 172B Skyhawk
(c/n 47858)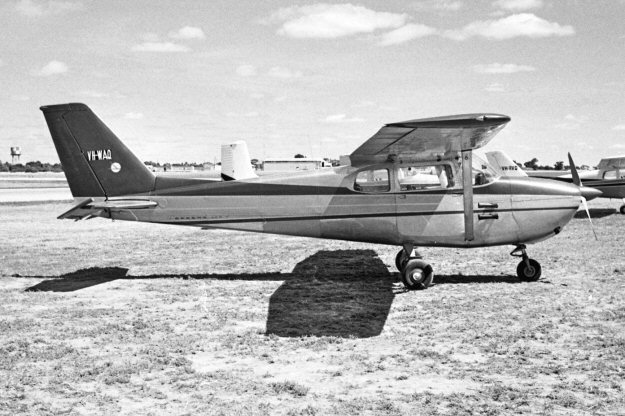 This was the former VH-RGM, re-registered when sold by Schutt Aircraft to the Wimmera Aero
Club of Nhill, Victoria. in February 1962. Bob Neate's photo (above) was taken at Mildura in
September 1962. Two years later it was a participant in the 1964 Ansett Air Race, flown by
C.R. Quick of Warracknabeal, Victoria. Greg Banfield's shot (below) was at Mascot on
29 March 1964. Today it is privately owned, and operates in Queensland. Oddly, it was never
re-registered again out of its VH-WA series. At the bottom of the page is a contemporary shot
of it taken at Caloundra in February 2011, the Cessna's new home base. As Ian Mcdonell who
took the photo elicits, many decades have gone by between the first and last images of this
Skyhawk. Correspondent Warwick Henry advises (2017) that poor old -WAQ was dismantled
at Caloundra on 19 November 2016 and seen at a private airstrip at Donnybrook, Qld.

.