VH-WAD de Havilland D.H.98 Mosquito PR.41 (c/n DH3236)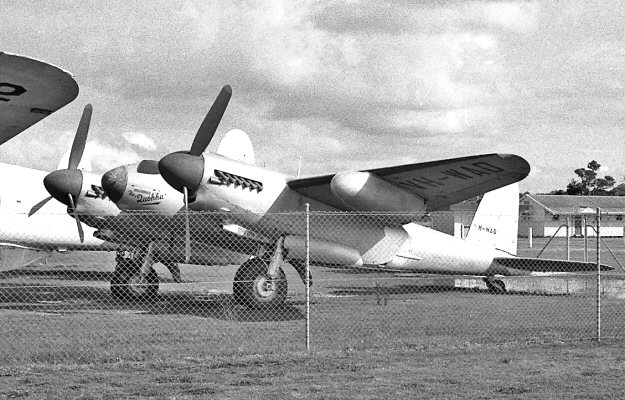 This Mossie PR.41 was purchased ex RAAF A52-319 by WA pioneer airline pilot Jimmy Woods
in September 1953 ostensibly to enter in the 1954 London-Christchurch Air Race. He ferried it
from RAAF Amberley to Perth on 10 September 1953, its only flight as a civil aircraft. Unfortunately
Woods was unable to secure sufficient sponsorship to continue with his plans to enter the race and
the Mosquito was a non-starter. It was registered in his Woods Airways series as VH-WAD for the
ferry flight, being a follow-on sequence of his Ansons VH-WAB and -WAC which were, at the time,
used on his regularly scheduled flights between Perth and Rottnest Island. The Mosquito was named
'The Quokka'
after the small animals of that name indigenous to Rottnest Island. The shot above was
taken at Perth Airport in May 1964 by Mike Madden (via the Geoff Goodall collection).
The Mosquito was stored in hangars at Perth Airport until 1963 when it was parked in an open enclosure
with retired Aeronavale Lancaster WU-16. The weather quickly took its toll on the Mosquito's wooden
airframe, and by the time Geoff took the photograph (below) in 1968 it had been towed to a secluded
corner of the airport and left to rot. It was eventually saved by a Perth aircraft dealer who sold it in the
United States. However, the aircraft was badly damaged during dismantling and storage in Perth before
suffering the ignominy of being off-loaded from a cargo vessel at Port Melbourne in May 1972 due to
monies being owed while being shipped from Perth to California. At a later auction it was acquired by
the Australian War Memorial who commissioned a lengthy rebuild, and today it is displayed at the AWM
in RAAF postwar silver scheme as A52-319. Phil Vabre took a shot of it in June 2010. Below, foot of
page.