VH-UPQ Douglas DC-3CS1C3G (c/n 33300)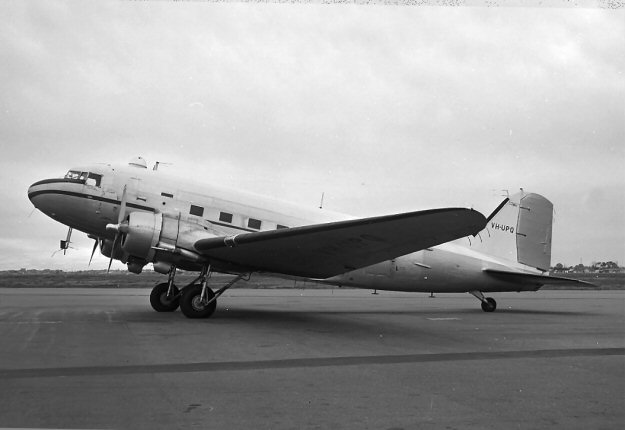 This "late model" (as C-47s go) Dakota was delivered to the RAAF in May of 1945 as A65-105.
It had been assigned the USAAF serial 44-76968, but probably was dispersed immediately to
SEAC, serving with 86 and 90 Wings in Malaya. After WW II it was seconded to the Aircraft
Development & Research Unit (ARDU) and later based at the Woomera Rocket Range. When,
in 1969, the Woomera operation was taken over by Department of Supply it was given the civil
registration VH-UPQ. DoS contracted it out to Short Bros (UK), and it was retired from its
Rocket Range duties in 1973. It was initially acquired by Connair, (Connellan Airways) of Alice
Springs and has had a succession of operators since they disposed of it in 1979. It is currently
registered to Dakota National Air in Sydney, although I understand is not actually airworthy.
Geoff Goodall's shot above is rare in that it was taken in July of 1969 when the aircraft had
called in at Adelaide whilst still working at Woomera. Barry Maclean's shot immediately below
was taken at an air show at Richmond, NSW in 1991 while the third picture is a another nice
image by the irrepressible Geoff at Mangalore in 1985 showing the DC-3 in yet one more of
the many different liveries it has carried in the later years of its active life. Finally, the nice air-to-
air at the bottom of the page is from the Ben Dannecker collection and shows -UPQ in formation
with VH-MIN and VH-MWQ near Point Cook.