VH-UMS Consolidated PBY-5A Super-Canso (c/n 1649)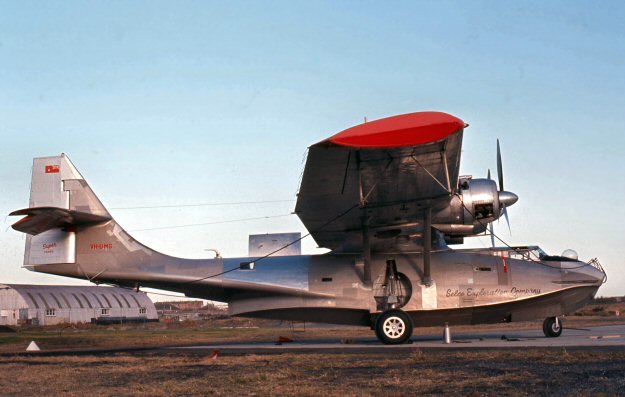 Built in October 1943 as a Catalina with BuAer 48287 for the US Navy, this PBY-5A was
civilianized in the 1950s as N10017. It was later sold in Canada as CF-JMS and in 1961
was converted to a so-called Super-Canso by Steward-Davis by the expediency of replacing
its 1,200 hp Pratt & Whitney R-1830s with 1,700 hp Wright R-2600-20s. (Went like a bomb).
To compensate for this significant increase in power the aircraft was modified to incorporate the
larger fin and rudder normally seen on Canadian Cansos. It then flew survey missions for Selco
Exploration and was sent by them to Australia in 1964, where it became VH-UMS. Its duration
there such was short, making the photograph above taken at Mascot in 1964 by Greg Banfield a
rare one indeed. It returned to Canada (1965?) as CF-JMS and later went to the US as N16647
before going back to Canada as C-GGDW. Its history beyond that point is somewhat academic
insofar as this collection of Australian civil aircraft photos is concerned, but suffice it to say that the
old bird was still going strong well into the new millennium, and was last reported as going out to
Malaysia for tourism flights.