VH-UKL DHC-2 Turbo Beaver (c/n 1627/TB16)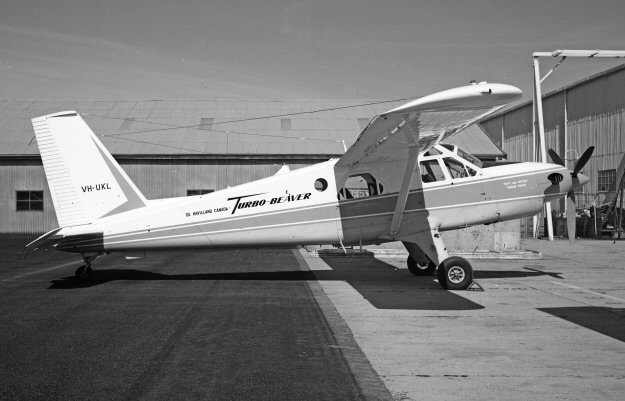 The last 60 Beavers were built as Turbo Beavers and fitted with PT6A-6 engines developing
some 500 SHP. When production of the -6 ended some Beavers were retrofitted with
PT6A-20s. The Turbo Beaver had a 28 inch extension in the fuselage ahead of the wing,
permitting 7 seats in the cabin instead of 5. This aircraft was sent out to Australia in 1966
as a demonstrator. Greg Banfield has unearthed a rare shot of it as VH- (above) taken by
Neville Parnell in 1967. Greg's own shot (below) was at Bankstown on 16 July 1966 with
the aircraft still registered CF-UKL since it was not officially entered onto the Australian
register until September 1967. It remained in Australia until July of 1969 when it returned
to the Canadian civil register again. In 1992 it was sold in the US and has had several diff-
erent N numbers since then. It is still current as N995JG.