VH-UEN Piper PA-22 Tri-Pacer (c/n 22-6351)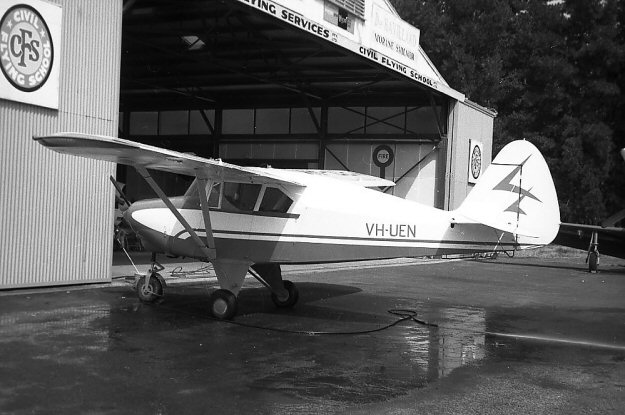 Here's -UEN at Moorabbin in February of 1965, photographed by Geoff Goodall. Personally I wish
that CASA (or DCA, as it was then) would have refrained from re-issuing VH-U series regos and left
them for the historic pre-1939 aircraft. In this particular case, there really never was a true VH-UEN,
since G-AUEN was an Avro 504K which was burned to ashes in 1926, some five years before it would
have become VH-. Anyway this VH-UEN was formerly N10F before being imported as VH-BWP in
1958, the first year that the lightplane market began to get swamped with American imports. Since the
"F" suffixes are assigned to overseas based aircraft (Foreign), this Tri-Pacer was probably not imported
directly from the U.S. (maybe from New Guinea?). VH-UEN is still current, and still in the Moorabbin
area.