VH-UEF Cessna 210A (c/n 57666)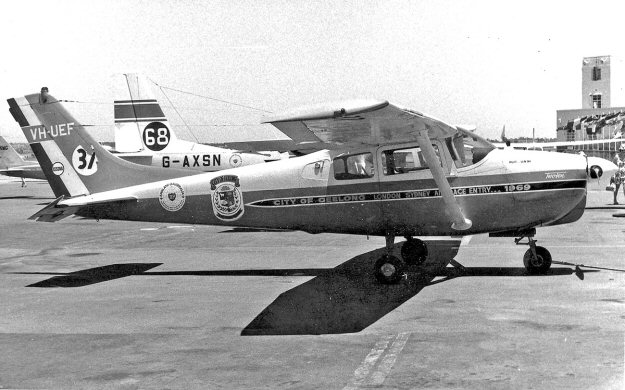 Here's -UEF at Parafield in December 1969 as a competitor in the London-Sydney Air Race,
sponsored by the City of Geelong Victoria. Photo by Peter Kelly. The 210A had been pur-
chased new as VH-RDJ by SA Air Taxis and delivered from Rex Aviation at Bankstown to
Adelaide on 14 July 1962. It was changed to VH-RCL when the SAAT adopted the VH-RC
series under Manager Richard Cavill . Traded on a new Cessna to Parafield dealers Rossair
in October 1965 the rego was then changed to VH-UEF.

A year after the race, it was destroy-
ed when it dived into the ground almost vertically near Ballarat while on a flight from its home base
Lovely Banks, Geelong to Mildura on 31 October 1970 with the loss of all 4 on board.

Note
race competitor BN-2A Islander in back which later became VH-ROV.