VH-UBZ (01) Cessna 402B (c/n 402-0025)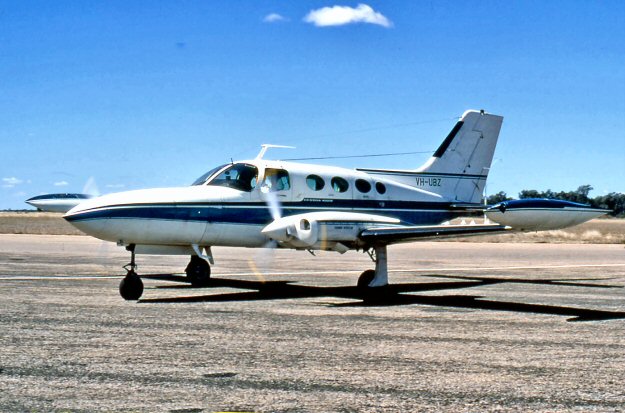 These two images of -UBZ were taken at around the same time. Geoff Goodall's above was
at Emerald, Queensland in August 1974 whilst the aircraft was operating a Nationwide sched-
uled passenger service, whilst John Wheatley's below, was in the hangar at Bankstown under-
going some heavy maintenance. The 402B was named Utililiner or Businessliner by Cessna,
depending on the cabin trim. Obviously the former was more austere. Delivered to Rex
Aviation in November 1970 (ex N5425M), it was sold to Aerial Services Tasmania Pty Ltd
of Launceston with whom it remained until October 1973 when it was acquired by Nationwide
Air Services, and used by them in outback Queensland commuter routes. By 1975 it was flying
with Aeropelican Intercity Commuter out of Newcastle on the route from that city to Sydney's
Mascot Airport. Sold to Gates Aviation of Cairns, it suffered an accident at Yam Island, Qld.
when it overran the runway on 13 February 1984 and then collided with a large rock. In defence
of the pilot it must be noted that two cyclists had appeared on the edge of the runway which
distracted him since he feared he might hit them. Repaired, it was sold to Greig's Aviation also
of Cairns and was finally written off in another accident at Badu Island in the Torres Strait on
29 October 1986. This rego was confusingly re-issued to another 402, a Model C in 1998.