VH-UAQ Piper PA-28 Cherokee 160 (c/n 28-56)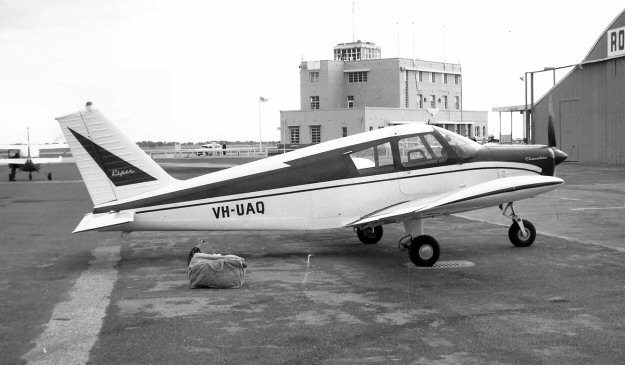 This early 1961 model Cherokee was first imported, new, as VH-FGM(2) at the end of 1961.
It was, in fact, the first PA-28 on the Australian civil register. The rego -FGM was based on the
initials of the principle, Commerce International, who also owned a company Marginson Pty Ltd.
of Brisbane and was first used on a Comanche in 1958, (and later on an Aztec in 1962, after
this Cherokee had been re-registered VH-UAQ). Geoff Goodall's shot (above) shows it at
Parafield in November 1962 whilst owned by a newly formed company United Aviation Ltd who
were then Piper agents for SA. (They previously had Colt 108s VH-UAB & UAD, then the
Cherokee). United Aviation had been founded by the Treloar family who had pastoral interests
across SA and the brothers owned many aircraft over the years. The Treloars also established
SA Air Taxis based at West Beach, hence the SAAT use of VH-TL reg series. John Wheatley's
photo immediately below was taken around 1970 at which time it was still clad in its original Piper
livery. However, it had been completely redone (probably several times) by the time Phil Vabre
saw it at the September 2007 Narromine, NSW Air Show. It still looks immaculate. .