VH-TVN Vickers 756 Viscount 'William Dampier' (c/n 374)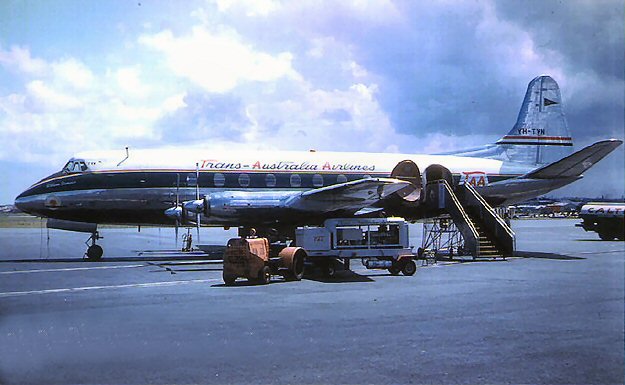 This shot was taken by Peter Gates at Mascot (Sydney) in September of 1958 . The aircraft
had been ferried out just two months previously. The photo below is by Greg Banfield and
shows -TVN at Mascot in 1964 in later "TAA - The Nation's Jetline" livery. As the late (and
Great) Gil White indicates in his history of this aircraft(at
http://www.ruudleeuw.com/viscount-vhtvn-history.htm)
this is the only series 700 machine which was sold, all the others being scrapped at various
points around Australia. VH-TVN went to Botswana National Airways in March of 1969,
becoming A2-ZEL. It later went to Rhodesia as VP-YNI and wound up with Air Zimbabwe
as Z-YNI.* In 1984 it was donated to the Harare Airport Fire Service and presumably
ended its days as an instructional airframe.
* Pet Peeve: Why did ICAO allow Zimbabwe to use just 'Z' as their national country markings
if they had no intention of conforming to the 5 digit combination standard? If, in fact, Zim-
babwe considered that it needed the full range of 4 digit regos since its register was so large
(more delusions of grandeur), then it should have been compelled to use four sequences foll-
owing the 'Z'. i.e. Z-YNI should have been Z-AYNI., or Z-ZNYI or whatever. Actually,
Zimbabwe is not the only nation to bastardize former colonial regos. China now does it with
former Hong Kong aircraft. A CPAL Airbus which would have been VR-HLW is now simply
B-HLW.