VH-TRA Mooney M.20E Super 21 (c/n 412)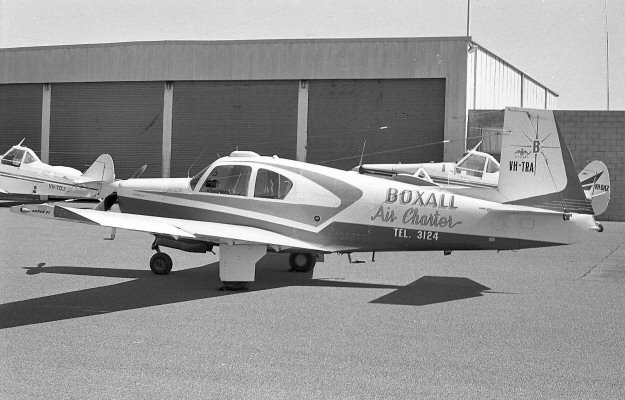 The Mooney -TRA in a Geoff Goodall shot at Jandakot in December 1969 while the aircraft was
owned by Boxall Air Charter of Bunbury,WA. First registered on 3 August 1964 to WA agents
Winterbottom Tractors Pty Ltd, using an appropriate phonetic registration, it went on to be owned
by a number of WA owners. Geoff saw it again (below) at Dowerin, WA in August 1978 whilst
attending an agricultural field day in the town. By then it was resplendent in the same paint scheme
as worn by -TPF. (Was this a standard (and attractive) paint job adopted by the local Mooney
agents in the late 1970s when aircraft came in for majors?). Still current, -TRA is now registered
to an owner in Queensland.