VH-TOB Short S.45 Solent 3 (c/n S.1295)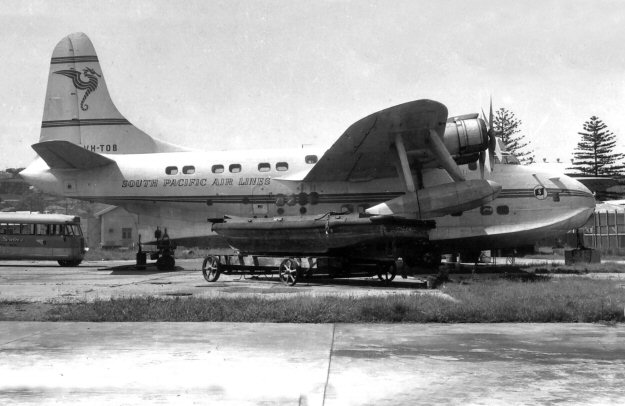 The Short Solent was a civilianized development of the Short Seaford long range
reconnaisance aircraft (itself a development of the war-time Sunderland). VH-TOB was
formerly BOAC's G-AKNP, although built as a military aircraft with the serial NJ203.
It was one of four purchased by P.G. Taylor's Trans Oceanic Airways in 1951. (The
first of these, VH-TOA, ex G-AKNO, was wrecked at Malta during its delivery in
January 1951 and hence never joined the Australian civil register). When I shot this
photograph at Sydney's Rose Bay flying boat base in 1954, it had been purchased by
the short-lived South Pacific Air Lines. The image below, from the Geoff Goodall
collection shows it as G-AKNP wearing Trans Oceanic Airways titling, but still with
BOAC's

"City of Cardiff"

name. Shortly after this period it was sold in the US as
N9946F. Surprisingly it is still extant and resides in the Western Aerospace Museum in
Oakland, California.