VH-TMK (2) de Havilland D.H.82A Tiger Moth (c/n T250)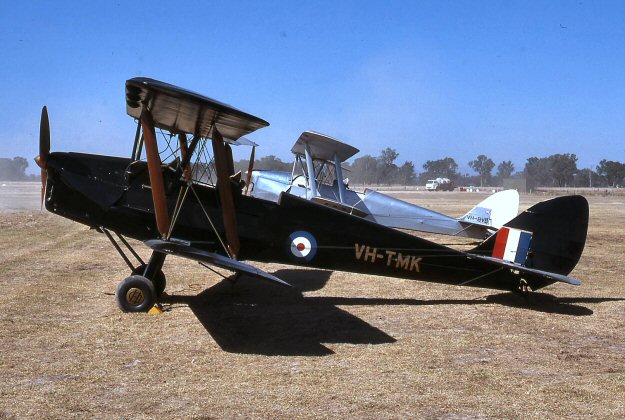 According to our Tiger expert, VH-TMK was built out of bits in 1980 at West Maitland aerodrome
by the Royal Newcastle Aero Club's then chief engineer Lance Fletcher. For some reason (probably
because Lance had the plate) it was given the c/n T.250. Having said that, DH rebuild number T250
belongs to Tiger T5531 (c/n 83250) which ultimately became VH-CXV and has always been quoted
as 83250 on the register since its days as VH-ATD and VH-RNL. It is possible that, while as -RNL,
it lost its rebuild identity plate one day and that it wound up on the hybrid -TMK. Whatever, this "Black
Beauty" was eventually acquired by the Royal Aero Club of W.A. whereupon it shed its lustrous glossy
black finish for the inevitable RAAF training yellow. VH-TMK was destroyed in a crash on 2 February
1998. The aircraft had been hired by a private individual and was performing aerobatics south of Janda-
kot, Perth. Reading between the lines it appears as if the slats deployed, either because they weren't
locked down or that the locking mechanism was worn and they involuntarily deployed. Just why that
would result in structural failure of the mainplane I am not sure, but it

was

given as a possible cause.
Whatever, the aircraft plunged to the ground after pulling out of a low altitude loop, shedding various
bits and pieces of wing as it did so (according to eye witness reports at the time). Both pilot and
passenger were killed. The above image by Geoff Goodall was taken at the March 1985 Mangalore,
Victoria air show.