VH-TMI (2) Piper PA-28-235 Cherokee (c/n 28-10173)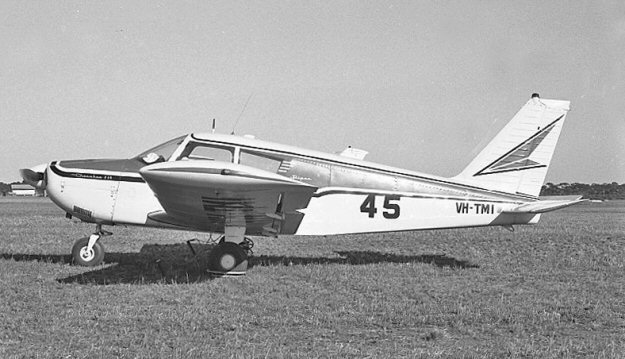 This was the former VH-MWB which farmer M.W. Blakelney traded in on a new Mooney in
October 1966. At that time Mooney agents Winterbottom Tractors Pty Ltd arranged to do a
registration swap so that Blakeney could keep his initials on the new aircraft. The Cherokee
assumed the Mooney's previous identity, VH-TMI (only in Australia!). It was sold in 1967
to G.B.& J. H. Dunkley of Yelbeni, WA who then owned it for some years. Geoff Goodall's
shot (above) was taken at Kalgoorlie in October 1970 when the aircraft was a participant in
the annual Weekend News Air Trial. It took part in the next year's rally (1971) also, as seen
in the image below, again by Geoff (by then, Senior ATC at Jandakot) in October, wearing
the new racing number of 46, and being flagged off on the three day trial.