VH-TGT de Havilland Canada DHC-6 Twin Otter ( c/n 84)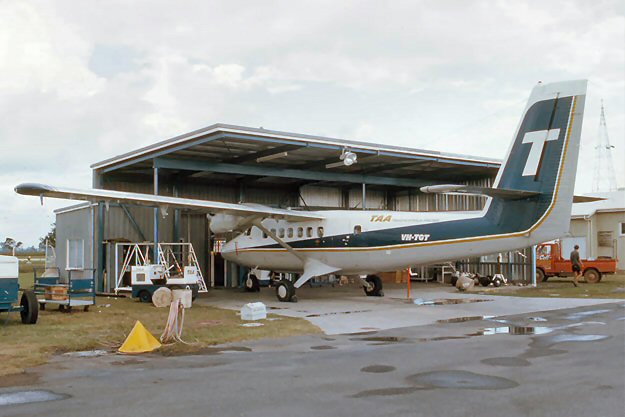 Ferried to Australia as N1754, VH-TGT was registered to TAA in April 1968. It was a replace-
ment aircraft for c/n 9, which had been earmarked to become VH-TGT after serving as DHC's
Twin Otter demonstrator for a year in full TAA mainland colours and the registration CF-UXE.
TAA opted to take a new aircraft, allowing DHC agent Hawker de Havilland to offer c/n 9 for
early delivery to Air Caledonie, which registered it F-OCFJ in January 1968. (I sighted c/n 9
at Faa'a Airport in Tahiti in 1978). The real -TGT didn't have an auspicious start. Assigned
to TAA's Mackay base, it crashed on landing at Brampton Island on November 1, 1968 and
was off the register until March 1969, when it was restored as a Twin Otter 200 with an enlarged
nose cargo compartment. It returned to Mackay where was seen in the CAHS archive photo
above receiving maintenance in the not-so-state-of-the-art hangar later used by Air Queensland.
TAA withdrew the aircraft from use in January 1974 and stored it at Eagle Farm. In May 1975
it was sold to Talair and ferried to Papua New Guinea where it became P2-TGT. At the begin-
ning of the following year it was reregistered P2-RDE. The Twin Otter was tragically lost in a
fatal crash near Garaina on February 28, 1978. The pilot perished, although the one passenger
survived.