VH-TGA (2) Beech 65-A80 Queen Air (c/n LD-152)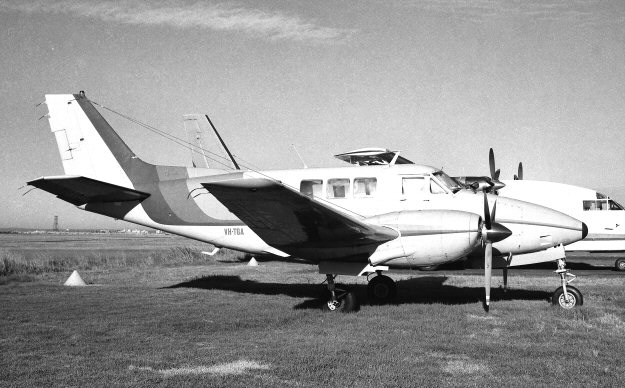 Originally N6868Q of Beech Aircraft Corp and delivered to T.A.A. in July 1964. Registered
VH-TGA to the A.N.A.C. (t/a T.A.A.) on 14 August 1964. Used on RDFS duties until 1968
and then re-registered directly to the Royal Flying Doctor Service themselves. The Queen Air
was sold in 1977 to Civil Flying Services (WA) Pty Ltd. who quickly turned it around and sold
it to General Aviation Air Freighters in 1978. In 1979 it was converted to A80-8800 standard.
It then went to East-West Airlines Ltd who operated it on behalf of N.S.W. Department of
Health. By 1983 it was operating for Ansett Air Freight services with 'Ansett Air Freight' titles
on the rear fuselage. However, by the time Greg Banfield took the above shot at Mascot in April
1986 VH-TGA had pretty much been withdrawn from service. Ostensibly it was sold later to
Southern Cross Air although I do not believe this actual transfer of registration ever took place.
Seen below is another Greg Banfield shot of the Queen Air as N6868Q taken at Mascot on 9
July 1964 upon its arrival in Australia, still dressed in an overall yellow primer finish.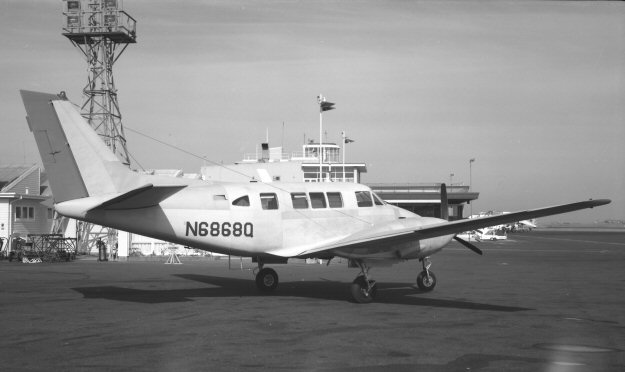 .