VH-TFH Fokker F.27 Friendship 700 (c/n 10176)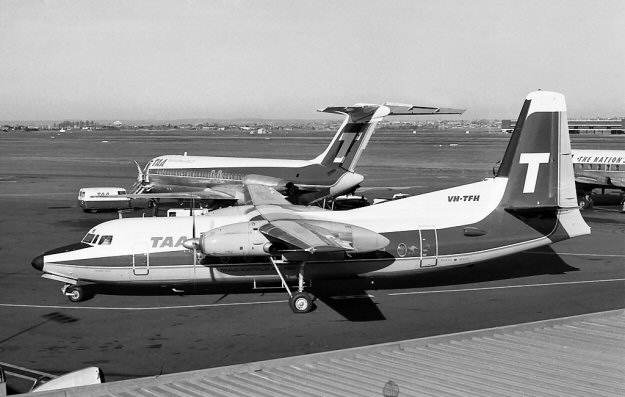 Built as a 100 series for Norway's Braathens-SAFE, this Friendship first flew on May 9, 1961
as PH-FCP. It was delivered soon after to Norway as LN-SUG. Fokker bought it back in
May 1969 and it resumed its former Dutch registration. It was also rebuilt as one of just two
Series 700 Friendships with increased fuel capacity, a large cargo door and upgraded engines.
Its first Australian story started straight after its first flight as a 700 in December 1969 when
TAA leased it to cover a capacity shortfall as the airline withdraw its Viscount fleet . It became
VH-TFH on December 30, 1969 and arrived in Melbourne on January 11, 1970. Within a
fortnight it was in revenue service. The F27 was withdrawn from TAA service in May 1971
and returned to Fokker the following month. –TFH was placed in storage at Woensdrecht,
Holland. <>Early in 1972 Fokker sold the Friendship to LTU in West Germany as D-BEKU.
Just ove two years later, in May 1974, it made the first stage of a trans-Atlantic crossing
when it was sold to Icelandair as TF-FIP. Five years later it become TF-FLP, about the
same time as Flugleidir was formed as the official name of the merged Icelandair and Loftleidir
airlines, although Icelandair remained its operating name. In February 1980 the former –TFH
completed its Atlantic crossing when it was sold to Pilgrim Airlines as N146PM. Pilgrim
Airlines became Business Express in February 1986 . A few months later N146PM was
withdrawn from use at Hartford-Bradley International Airport in Connecticut. Early in
1987 it was sold to an aircraft dealer who found a buyer in December that year.

Thus began the aircraft's second Australian story. The buyer was Charter Cruise Air,

trading as CCA Aircruising Australia and the aircraft became VH-JCC in February 1988.

Its main role was taking tourists on long ''air cruises'' throughout Australia, often hosted by

TV personality Bill Peach. It also spent time in New Zealand, on lease to that country's

National Party, and in Papua New Guinea on lease to Air Niugini. In November 1997

it was sold to Australian Flyers . With 46,000 hours and 52,000 cycles, –JCC was with-

drawn from use at Tamworth in 2000 and used for spare parts . The registration was

cancelled in October 2002.

*

I am indebted to Davidf Carter for the above potted history of this Frienship.