VH-TFE Fokker F.27 Friendship 'Robert Burke' (c/n 10120)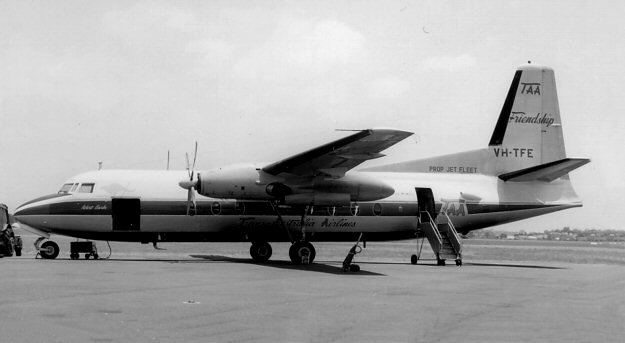 This photograph was obtained from the Jennifer Gradidge collection for a book I intended
to publish entitled 'Airlines and Airliners of Yesteryear'. In the event, no publisher was willing
to take it on. Since I had left Australia by May of 1959 when this aircraft was taken on
strength by TAA, it is the only F-27 of that airline that I have in my collection. As I finish
up the collection as it now exists, I will probably add (donated) others of the 1960-70 era.
This particular aircraft was leased to, and eventually purchased by, the Department of Civil
Aviation (in 1971). A photograph, and details of this ownership, may be found at:
http://www.airwaysmuseum.com/F27%20VH-TFE.htm
It was sold in the U.K. in 1978 to Air Anglia as G-SPUD (did it carry potatoes?) and later
was operated by Air UK as G-OMAN (on the Isle of Man route). Its ultimate fate is unknown.