VH-TFC Fokker F.27 Friendship ' James Grant' (c/n 10113)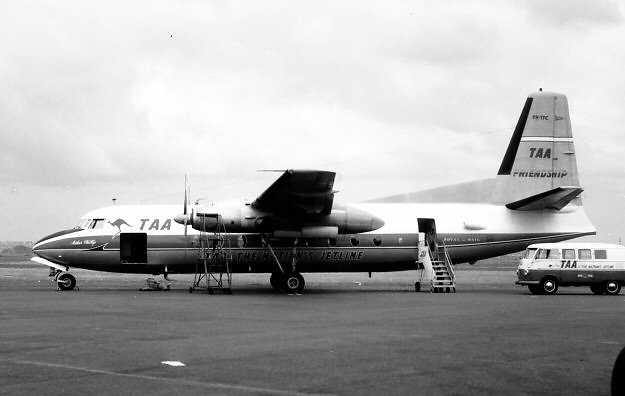 Third Friendship delivered. First TAA flight on 9 July 1959. TAA, having delivered a list of aircraft
names to Fokkers, changed them all around before the aircraft were put into service. -TFC was to
have been 'Arthur Phillip'. This Friendship flew faithfully with TAA until sold to the broker Australian
Aircraft Sales in 1977. Greg Banfield shot the above image at Mascot in 1962 whilst the aircraft was
wearing a slightly modified first livery. In the 'action' shot below by Bob Neate at Canberra in March
1963 it had (mercifully) shed its dayglo orange tail for yet another variation of a theme. VH-TFC be-
came F-BYAP with Uni-Air in 1977 although was leased to a couple of Belgian charter outfits as
OO-SVL before being withdrawn from service and scrapped in 1992.