VH-TBA Douglas DC-6 (c/n 42900)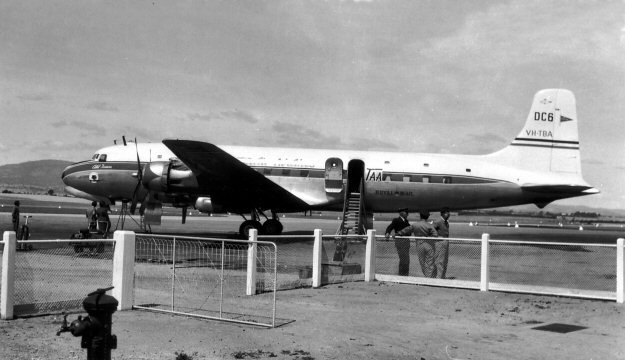 TAA leased this DC-6 from KLM over the Christmas holiday period in 1953. Here it is
seen at Western Junction Airport, Launceston, Tasmania in December of that year.
(It was used mainly on the Melbourne-Launceston-Hobart route). It was more or less
given the standard TAA livery, (despite the fact that it was only a three months' lease)
although it retained the KLM engine cowling flashes. As soon as it got back to
Holland it was reregistered from PH-TPW to PH-DPW, since that was the era when
the lead Dutch registration letter was changed to be indicative of the airliner's manufacturer.
After a stint in the West Indies as PJ-DPW it went to Ecuatoriana as HC-AIT. Like so
many of the old propliners it gravitated to Miami and was broken up in 1970 whilst
registered N8703A.