VH-TAQ Convair 240-5 (c/n 64)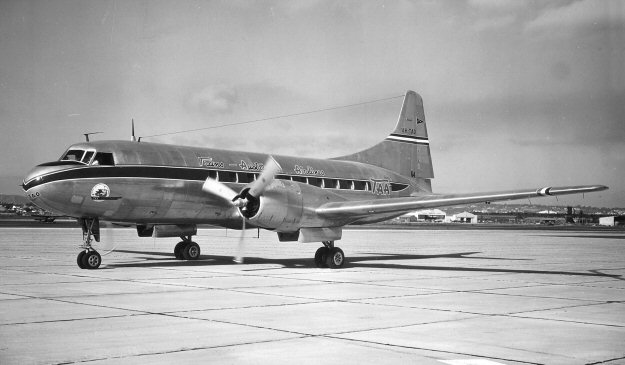 .

VH-TAQ, although third in registration sequence, was actually the first Convair delivered
to Australia, being officially handed over on 25 Aug 1948, and use to crew-train until
early 1949. The Consolidated Vultee photograph above was taken at San Diego in
1948 and show -TAQ before delivery in its original non-white top . In TAA service it
carried the name

'John Forrest'

. After eight years service, mainly on the Melbourne-
Sydney-Brisbane run, it was sold to Trans Arabian Airways as 'Kuwait Emirate
Special' in Aug 1956 and registered in the U.K. as G-AOFC. When that enterprise
failed to make it off the ground it passed to aircraft broker William C. Wold and Assoc-
iates and was 'foreign' registered on the US civil register as N9853F. It probably
resided somewhere in the Arabian Peninsula or possibly Japan at that time, since in
1958 it was registered to the Arabian Oil Company with the registration JA5048.
Its history is even more convoluted after that and, after a multitude of owners (with bank
repossessions from several of them) it is still on the active US register as N295M regis-
tered to Bahama Air Ferries and leased to Trans Florida Airlines. The photograph
immediately below is by Richard Maclean shows VH-TAQ at Essendon just before it
set out on its delivery flight to Trans Arabian Airways (the name is on the forward
fuselage). The small color photo on the bottom of the page of c/n 64 as N295M came
from the www.prop-liners.com site, although there is no credit line on it. Finally, at the
bottom of the entry is a superb Bob Garrard shot of this Convair taken at Port Columbus
International Airport (Ohio) in 1972 whilst the aircraft was operated by Diversified Marketing,
Inc. By his time it had been converted to CV-300 standard.