VH-TAP Convair 240-5 (c/n 42)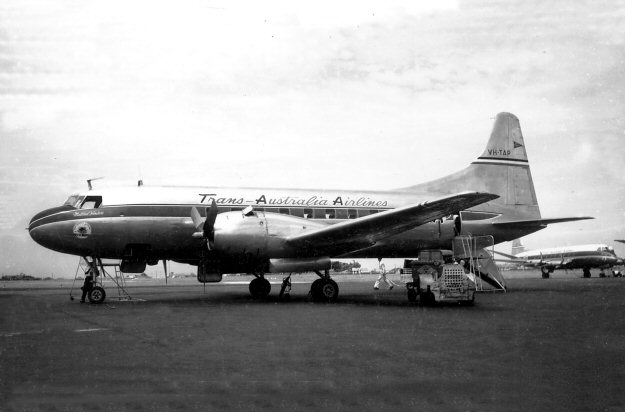 Delivered early in 1949 with the name

'Matthew Flinders'

and saw first service on 1 April
1949 from Melbourne to Brisbane. My snap was at Essendon in 1955. -TAP was sold to
Pakistan International Airlines in 1956 as AP-AHO. It was then purchased by Fokker in
Holland in 1959 as PH-NHZ. Was to have been leased to Euravia Air Charter NV as PH-EUR
but that didn't happen. Instead it was purchased by the St. Louis-based aircraft broker Remmert
Werner as N557R. After refurbishing to executive transport standard they sold it to Falstaff
Brewing Co in 1961 as N503. It was acquired by Alaska Coastal Airlines (and converted back
to 44-pax seating) in 1966 and re-registered N196N. When Alaska Airlines absorbed that carrier
in 1968 they had no use for it in their existing fleet and it was withdrawn from use. Start up
Pacific Nevada Airlines leased it from Jan to May of 1973 when Alaska were forced to repossess
it back for non payment of lease. It was sold later that year to Pacific Coast Airlines (which may
have been a restructured and re-named Pacific Nevada) and in 1975 passed to Pacific Airlines.
It was repossessed by Crocker National Bank in 1976 and withdrawn from use and broken up
at Long Beach Municipal in 1978.