VH-TAL Douglas DC-3CS1C3G (c/n 13921)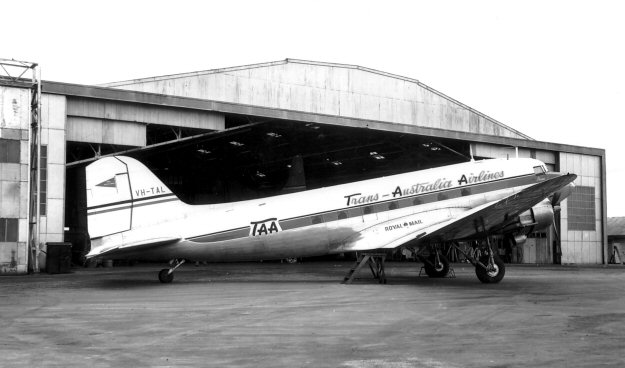 Ex USAAF C-47A-30-DK 43-48105. To RAAF as A65-58 (VHCIK). It was
civilianized in 1946 and went to TAA as '

Hann

'. My shot outside their hangar at
Essendon was in 1954. The color shot below was taken by Barrie Colledge in
1956. In 1957 -TAL was sold to West African Airways Corp in Nigeria as
VR-NCK. After that state became independent in 1960, it was reregistered
5N-AAK. I can never understand why ICAO decided to allot these number-
letter combinations after WW II, although a radio ham friend indicates that they
are the call signs for these various countries. As far as aircraft identity prefixes
were concerned, however, it's not as if all the two letter permutations had been
taken. 'NG' would have done nicely for Nigeria. But 5N? A case could be made
for the number denoting a continent, '5' being Africa. The 'N' then drops naturally
for Nigeria. But how about Samoa (5W)? Not exactly Africa, is it? And why
was Algeria given 7T? Meanwhile, poor old 5N-AAK had been commandeered
by the Air Force and was destroyed on the ground during the Nigerian Civil War,
(in November 1967) having been strafed by rocket armed Federal L-29 Delphins.