VH-TAB Douglas DC-4-1009 (c/n 43066)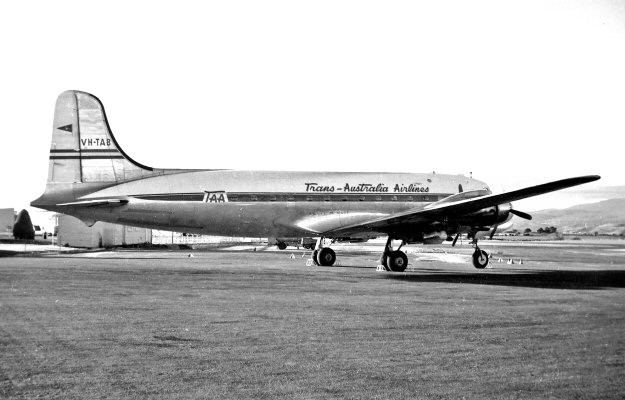 Delivered in 1946, named '

John Gilber

t'. Was leased to British Commonwealth Pacific
Airlines (BCPA) in 1948 as VH-BPB '

Endeavour

', returning to TAA the following year.
The photo above, from the Geoff Goodall collection shows it at Launceston, Tasmania
in September 1962 as a freighter. In my own shot, immediately below, taken at Essendon
in 1956 it was still in mixed pax/cargo configuration. It was leased to Ansett-ANA in 1959
as a mixed freight/passenger machine and Richard Maclean's photo below (# 3) shows it
in the markings worn during that lease. At the foot of the page is a Greg Banfield image
taken at Mascot in February 1966 showing the old lady in latter-day TAA livery
VH-TAB was sold to Air Vietnam in 1970 becoming XV-NUL. It was withdrawn from
use in 1975.