VH-TAA Douglas DC-4-1009 (c/n 43065)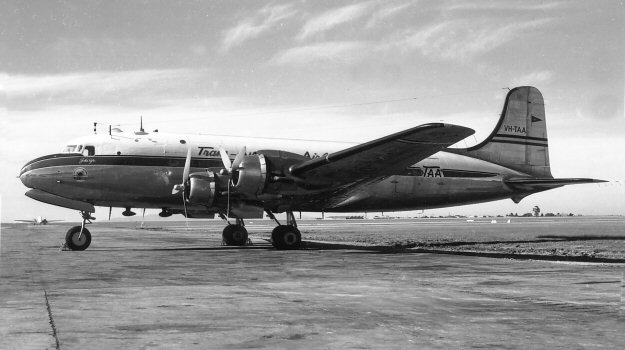 In 1946 Trans-Australia Airlines purchased four Douglas DC-4 Skymasters new from
the factory. VH-TAA was the pride of the fleet in the late 1940s, and was named
'

John Eyre

'.. When the Viscounts arrived, the DC-4s were relegated to cargo duties
and, at that time, VH-TAA was renamed '

Watkin

Tench

', (an officer in Australia's
First Marine Corps, circa 1787). On 24 May 1961 VH-TAA was operating a cargo
flight 1902 from Sydney to Brisbane. Whilst on final approach to Brisbane's Eagle
Farm Airport, the captain evidently experienced a heart attack. In attempting to
leave his seat he fell across the engine throttle quadrant closing all four engines. The
copilot was unable to regain control and the aircraft crashed in mangrove swamps short
of the runway killing both crew members. The rare in flight photograph (below) of
-TAA was obtained from Trans-Australia Airlines in 1948. My shot (above) was
taken on the ramp at Essendon in 1954.