VH-SYU Pilatus Britten-Norman BN-2A-8 Islander (c/n 769)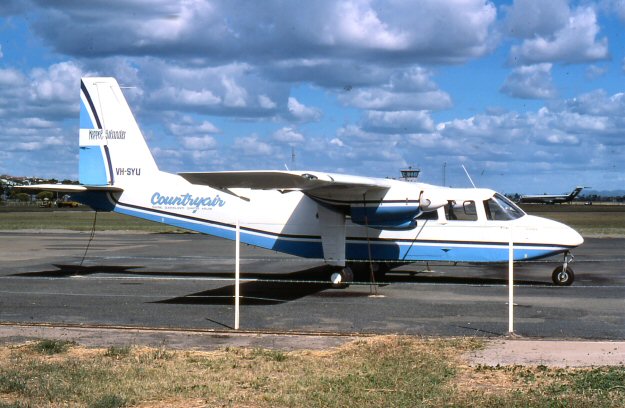 The legend across the fin and rudder reads

"Keppel Islander"

indicating that the aircraft used
its STOL qualities to fly shuttle services to the resort on Great Keppel Island, some 15 km off
the Queensland coast at Rockhampton. Incidentally, this resort is (as of early 2008) undergoing
a complete rework to turn it into a luxury paradise. Probably at luxury prices, too, I imagine.
Anyway, -SYU was acquired by Country Air Services Pty Ltd new in 1976. It was formerly
G-BDHW and was first registered in Australia in August of 1976. Geoff Goodall photographed
it (above) at Rockhampton in April 1978. When sold by Countryair in 1985 it flew all the way
across Australia to join the fleet of Rottnest Airbus, a company maintaining links between Perth
and Rottnest Island. In the new millennium it was laid up for a while on Hamilton Island. One
could say that, throughout its career, it has been a "true" Islander!. As of early 2008 it was still
current and registered to an owner in NSW. Theoretically, since Pilatus did not assume control
of Britten Norman until 1979, this particular machine should not really have the Pilatus appellation,
although that is how CASA describes it.