VH-SND Rockwell 600-2D Snow Commander (c/n 1381D)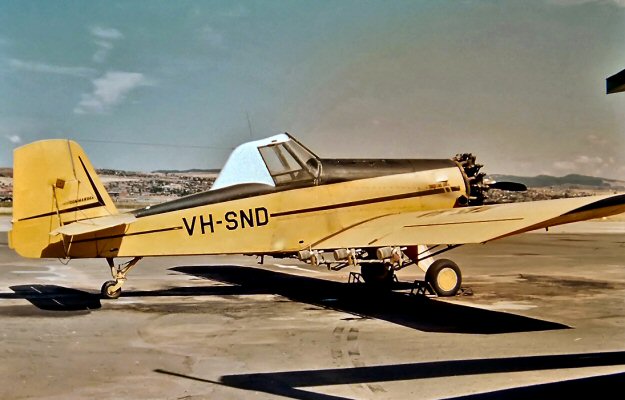 This ugly thing (well, no uglier than any other ag craft, to be honest) was designed by Leland Snow
and produced at his Snow Aeronautical Company at Olney Texas starting in late 1958. In Novem-
ber 1965 the company was acquired by the Aero Commandeer Division of Roxkwell which put it
into production alongside the equally ugly Callair A-9, Rockwell having purchased Callair also.
Originally named 'Ag Commanders' this titling was dropped later and these birds are usually known
by my heading above . In 1977 Rockwell sold its plant in Albany, Georgia where the ag aircraft were
built to to the Ayres Corporation who continued production.. VH-SND, seen above in this shot by
Danny Tanner at Parafield in November 1969 under a threatening dust storm, was first registered
in Australia in June 1968. It was written off in a crash near Emerald, Queennsland in January 1995.