VH-SLT Cessna 180D Skywagon (c/n 50970)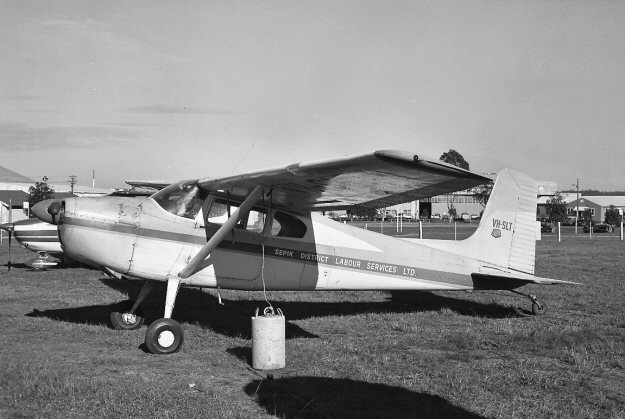 This aircraft came "south" from New Guinea at the same time as its sister ship VH-SLS. It is seen
here at the Rex Aviation distributorship in Bankstown, NSW in July 1967 still wearing the titling of
its previous owner, Sepik District Labour Services Ltd of Wewak. Photo by Geoff Goodall.
This 1961 model 180 (ex N6470X) was originally imported as VH-GKA for Territory Airlines,
who sold it in 1963 to SDLS. After various owners it went to Hazelton Air Services Pty Ltd
in 1983 and stayed with them until 1987 when its registration passed to Aerial Agriculture Pty
Ltd. Tony Arbon saw it (below) at Goulburn in November 1986 when it was with HAS.
In 1993 it was registered to New England Airways, and was struck off the register in 1995
following storm damage. Paul Bredereck's shot at the foot of the entry shows it at Tamworth
after the squall had virtually written the poor thing off.