VH-SJG Bristol 170 Freighter Mk. 21 (c/n 12799)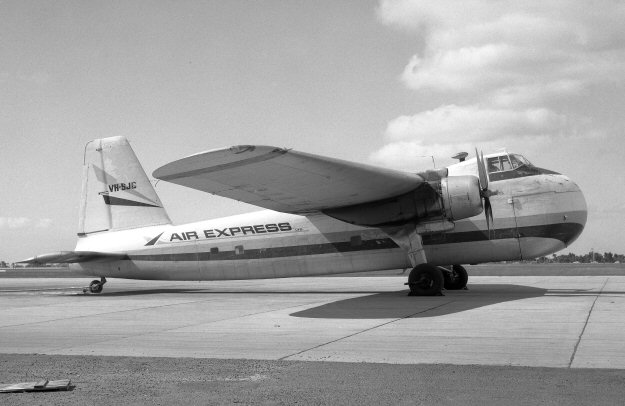 In 1970 Air Express acquired three Bristol Freighters and promptly sold them to Jetair Australia
for their short-lived freight operation. VH-SJG was one of them and it, like VH-SJQ, was re-
possessed by Air Express of Melbourne when the Jetair service folded. Greg Banfield's shot
of -SJG in Air Express markings (above) was taken at Essendon in December 1974. The air-
to-air photo below is from the CAHS archives. The Bristol had been declared surplus from
RAAF requirements in 1967 and flown to Archerfield, Brisbane. It had served faithfully from
its original transfer to the RAAF in 1949 as A81-1. Built in 1948 as G-AIMI, it went first to
the UK Ministry of Supply as WB482 before going out to Australia. Ian McDonell's shot # 3,
taken at Essendon in 1971, shows the aircraft sans any livery when just re-acquired by Air
Express for its trans Bass Strait freight operation to Launceston, Tasmania. This service lasted
until 1978 during which time the aircraft had appeared in a number of different liveries. When
disposed of by Air Express, it was purchased by Malcolm Long and displayed for a while at
Chewing Gum Field, Coolangatta, Qld in RAAF livery as A81-1. After languishing there for
several years and deteriorating somewhat, it was gifted to the RAAF Museum at Point Cook
where it is now part of the permanent exhibition. Peter Hough's shot of it at that locale taken in
January 2007 is at the foot of the page.