VH-SJC de Havilland D.H.82A Tiger Moth (c/n DHA66)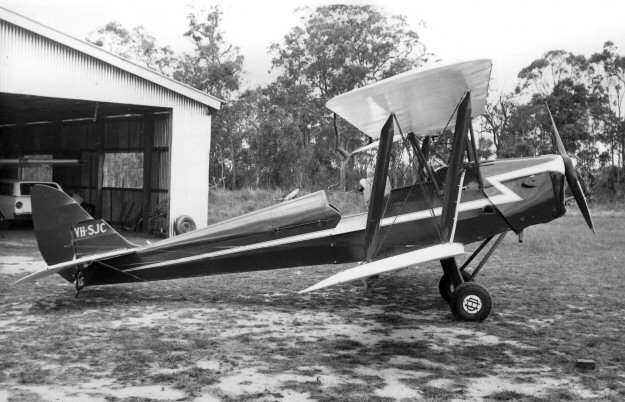 This photo of -SJC was taken at Pialba, Queensland in June 1968 by David Tholar. The previous
year (September 1967) a complete rebuild had been accomplished from the remains of crash damage
sustained by VH-KLA and the Tiger re-emerged as VH-SJC complete with a striking allover red scheme.
As VH-KLA it had been a crop dresser with Les Keys Aviation and prior to that as VH-DDS with the
Darling Downs Aero Club at Toowoomba, Queensland.. Built by DHA at Bankstown as DX816 for
the Empire Air Training Scheme it was destined to go to South Africa but, in the event, was diverted to
the RAAF instead becoming A17-629. It was rather late coming on to the civil register, not doing so
until 1958. Barry Maclean's shot (below) was taken at Mangalore in the early 1990s by which time
the aircraft was dressed in a weird olive overall livery with even weirder roundels. To each his own,
I guess. VH-SJC is still current, although the rego has now been repositioned to the fuselage.