VH-SFS Cessna A185F Skywagon (c/n 18504137)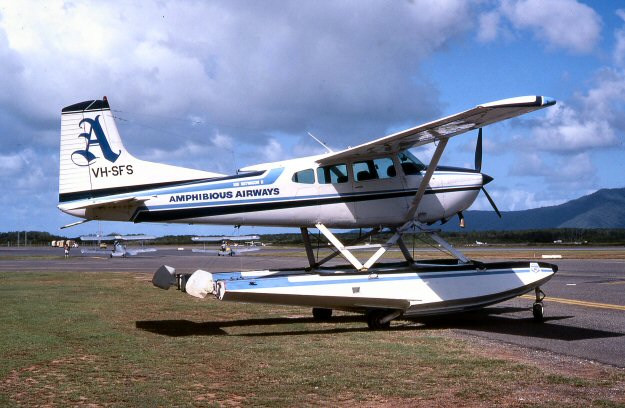 Imported in January 1981, ex N61287, and registered to Harold Kyle of Runaway Bay (northern
Gold Coast). It was sold in August 1982 to Ted von Neda of Air Harbour, Cooktown, N.Q. It
appears that the owner was dba Amphibious Airways since Geoff Goodall took the above shot at
Cairns in April 1984 and on the 5th of that month VH-SFS suffered an accident some 26 nm NNW
of Cairns . The Australian Transport Safety Bureau occurrence brief states that "About 12 minutes
after takeoff the pilot reported engine problems and subsequent total power failure. Pilot was then
committed to a forced landing at sea. The sea swell was high and the aircraft cartwheeled on landing".
There was one fatality, although three occupants escaped uninjured. The registration was canceled
that same day (5 April 1984). Air Britain member Greg Thom indicates that bits of the fuselage,
floats and other sundry items from the Cessna were in a junk compound at Moorabbin Airport in the
mid 1990's.