VH-SAE Auster J/5F Aiglet Trainer (c/n 2735)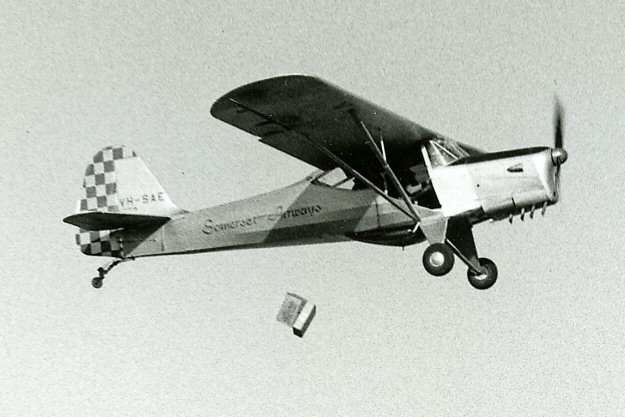 This shot of the Aiglet Trainer VH-SAE dropping supplies in outback Queensland in the 1950s is
from the Neil Follett collection. It was one of seven Austers flown by the diminutive Somerset Air-
ways, most of which were re-registered into the company's VH-SA series. This one was formerly
VH-BYF and acquired by Somerset in June 1956. Below it is seen dismantled in a hangar at
Cairns in an image from the Geoff Goodall collection. It was withdrawn from use and struck off
the register in 1964 following a September 1963 accident some 20 miles south of Iron Range, Qld.
In 1987 it appears to have passed to Mick English of Bathurst, NSW. Almost a decade later
(1995) it appeared in the Auster Club News as being for sale by Geoff Scott as an unfinished re-
build for $A5,200 (fuselage only rebuilt). In 1996 an Auster registered VH-BYF to C. Bridgeman
of Maitland NSW appeared on the register. Both Air Britain and Australian Aviation report this as
being ex VH-SAE. However, an IAC Newsletter for 1999 indicates that Graeme Smith of Kemp-
sey, NSW is seeking a suitable fuselage for an Auster project. based on VH-SAE (despite the fact
that the 1995 report said it was complete). There is registered today an Aiglet Trainer restored to
the registration VH-BYF carrying the serial FM170 owned by Graeme Smith of Dondingalong,
NSW. However, 170FM (a reversal of this spurious c/n) was the frame number for the Aiglet
Trainer VH-BYE (c/n 2733, which was struck off the register in August 1969), so whether the
current -BYF is made up the fuselage of that aircraft and the wings VH-SAE is, at the moment,
a matter of conjecture.