VH-RXD Cessna A188 Agwagon (c/n 188-0015)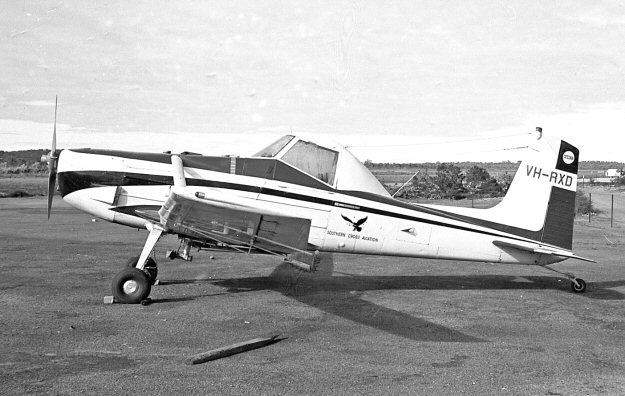 VH-RXD was the first Agwagon imported into Australia, first emerging from its packing crate at
the Rex Aviation facility at Bankstown on 14 July 1966. Records indicate that it was finished in
a standard Cessna livery of red and white and was hurriedly assembled for unveiling at a Rex sales
conference that very afternoon! It then commenced local performance flying at Bankstown for
DCA type certification, followed by a sales tour. It was formerly registered 16 November 1966,
and leased to Coondair at Tintinara, SA and then sold in July 1967 to Avon Aviation at Northam,
WA. Geoff Goodall's shot above was taken at Jandakot in August 1968 when the aircraft was
wearing Southern Cross Aviation titles. At the time this picture was taken it was, in fact, owned
by Cessna agents Simpson Aviation who had a program to lease ag Cessnas to small operators
who could not afford the purchase price to own their own machines. . In April 1970 it left WA
on sale to Col Pay of Pays Air Service of Scone NSW who stationed it at a new base at Trangie,
NSW. Numerous owners followed, and, incredibly for an ag sprayer, it is still current, forty
plus years on, and is now owned by Auspray Aviation based in Geraldton, WA.