VH-RRA Douglas DC-3CS1C3G (c/n 16351/33099)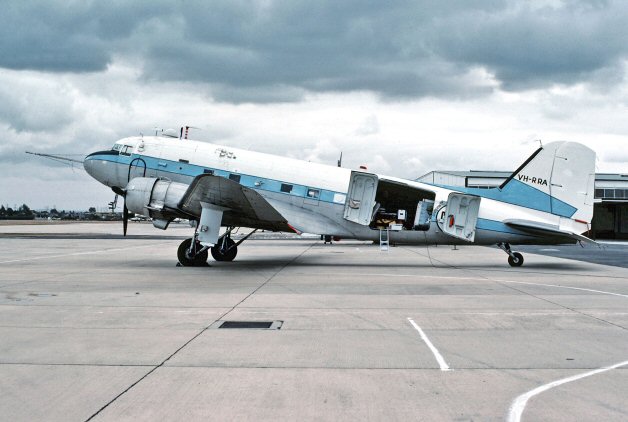 VH-RRA was operated by the CSIRO Radiophysics Division. Barrie Colledge's nice color
shot above was at Mascot, circa 1967, whilst Greg Banfield's b&w image below was some-
what earlier in November 1965 at Tamworth, NSW. -RRA was originally delivered to the
RAAF in May of 1945 as a late model C-47B and given the serial A65-97. It flew for 91 Wing
operating the thrice weekly courier run between Australia and Japan for many years. It was
released from the RAAF in December 1964 and acquired by the CSIRO (probably a journal
entry from one branch of the Commonwealth government to another). The DC-3 was specially
modified for its research in upper atmospheric physics and was also used for cloud-seeding.
East-West airlines maintained it during its years with the scientif organization. VH-RRA was
withdrawn from use at Sydney in July 1978 and was parked near the fire-dump area at Mascot
for many years. It was subsequently used for fire practice and was probably scrapped around 1988.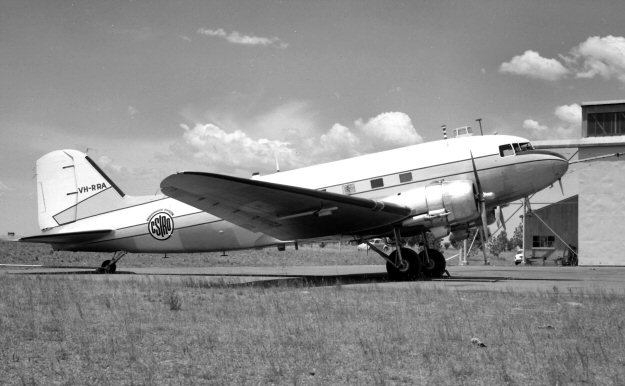 -