VH-RME Boeing 727-177 (c/n 18743)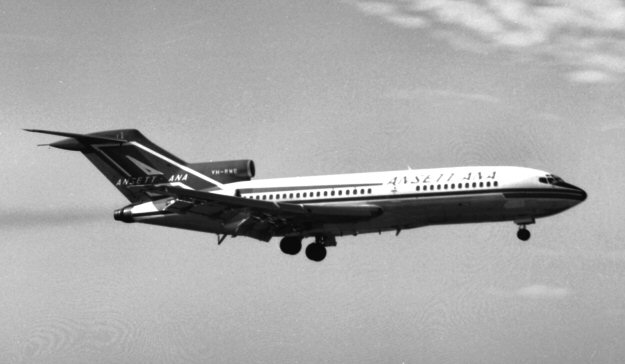 VH-RME was delivered in October 1964, and was the first of a fleet of some 20 to be
operated by the original Ansett-ANA. Interestingly, its delivery flight was the first of a
tri-motor aircraft to cross the Pacific since Sir Charles Kingsford-Smith and Charles Ulm
performed the feat in their Fokker F.VIIb/3m

'Southern Cross'

in 1928.. It operated its
final revenue service with Ansett on 12 September 1978, and was sold to International
Air Leases in January 1979. It then had many leases and changes of ownership and regos
until it was finally scrapped at Opa Locka, Florida in 1995, its identity at the time being
N8140V. Greg Banfield's photos were all taken at Mascot: Above and immediately
below, in September 1965 trailing extensive smoke, and in February 1966 (less so). At
the foot of the page it is seen in 'Ansett Airlines of Australia' livery, March 1978. .