VH-RMA Lockheed L188A Electra (c/n 1039)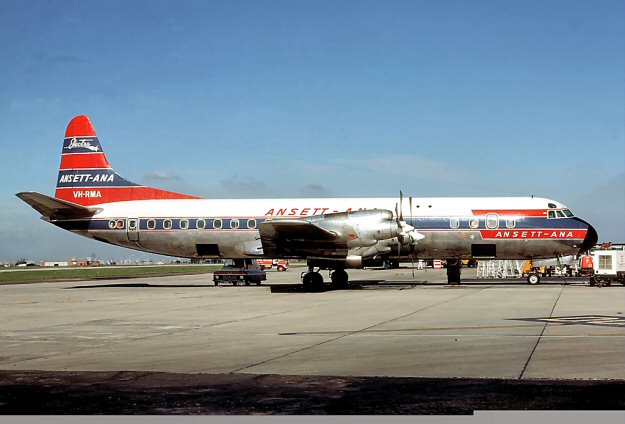 In 1959, in order to be competitive with rival government controlled Trans Australia Airlines,
Ansett-ANA ordered three Lockheed Electras (later augmented by a used one - excuse me,
previously owned). Reginald Ansett decided to register these "cream of the crop" liners in the
old VH-RM series. When the pure jets arrived in numbers in the early 1970s they were converted
to freighters and flew for thirteen more years in this role, being finally retired in 1984. VH-RMA,
the first of the three, arrived in February of 1959 and is seen here in these fine color studies by Peter
Gates. The lower image shows the aircraft as originally delivered, whilst the upper shot illustrates it
in the livery most often seen in later years. VH-RMA was sold to Buffalo Airways of Yellowknife,
NWT, Canada in October 2006 as C-FBAQ. On 5 March 2012 it suffered a crash landing at
Yellowknife when the starboard main wheel would not deploy. The shot of it at the foot of the
page following this accident is from the Bob Smith collection. Damage was substantial and the
old lady may not fly again.
.