VH-RIN (2) de Havilland D.H.82A Tiger Moth (c/n DHA1023)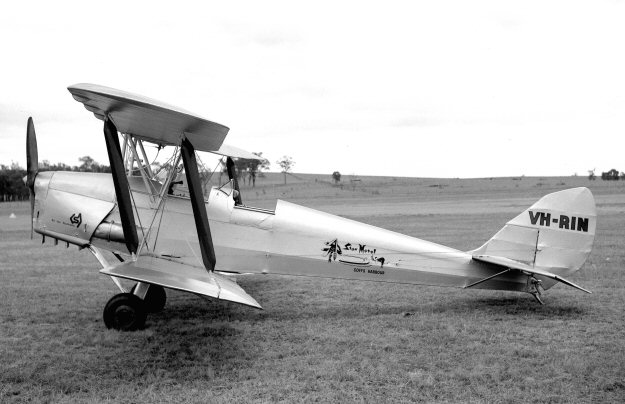 'Star Motel Coffs Harbour' says the legend on this Tiger. Either the hostelry changed its name, or
oddly, it went to another motel later, being registered to Smugglers Inn (Pty) Ltd of the same locale
towards the end of the 1970s. Greg Banfield's shot above was taken at West Maitland, NSW in
November 1971. Below it is seen as a very hard-worked sprayer at Goulburn, NSW in 1964.
It was used then by Mike Sasin's Sasin Aircraft Service of Goulburn. The photo below by the late
Peter Limon captures the atmosphere of the sprayer Tiger Moth era. VH-RIN was formerly Gertie
McKenzie's VH-GMF (civlianized from A17-588) based at Moorabbin. It is the second Tiger to
bear this rego, the first (c/n 82565) having become VH-CFA(3) in 1960. This VH-RIN is still
current. Brian Nicolson recently (2011) contacted me and indicated that in 1966 he went to live in
Goulburn to take over what had been Mike Sasin's business and the Tiger was scattered all over the
hangar, having come to grief some years earlier. Brian and crew gathered it all together and turned it
back into the Tiger it is today. In 1968 after a full and careful rebuild he sold it for AUD 1,800.00.
The result can be seen in Greg's picture above. Imagine what it would be worth today!