VH-RIG Cessna 421 (c/n 421-0120)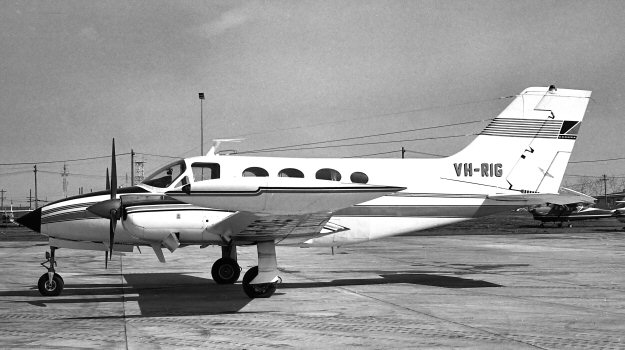 The Cessna 421 was a 411A with a pressurized cabin. It also had a broader tail, cockpit
clear vision panel and smaller side windows. It was powered by two 375 hp Continental
GTSIO-520-D engines. VH-RIG had been registered new on 30 Aug 1968 to Rex
Aviation, was being and used as a demonstrator.when Greg Banfield photographed it at
Mascot in September 1969. On 23 March 1970 it was sold to the mining venture company

Poiseidon NL, Adelaide (NL=No Liability). It was owned by them until it was destroyed


by fire whilst being refueled on a properrty near Boulia, Queensland on 22 May 1976.

Poiseidon NL sparked great speculation on the Stock Exchange and had amazingly high
share prices triggered by vague reports that they had found vast nickel deposits in the
Murchison district of WA, triggering a rush of prospecting outfits to Leonora and Laverton.
The bubble burst a few years later and a lot of people lost a lot of money, but it boosted
Perth's boom town atmosphere.